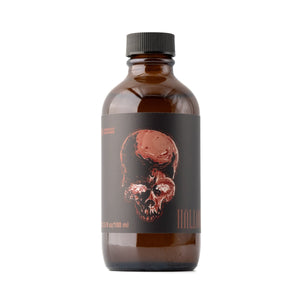 Barrister and Mann - Hallows - Aftershave Splash
Away to the Dismal Swamp he speeds,

His path was rugged and sore,
Through tangled juniper, beds of reeds,
Through many a fen where the serpent feeds,
And man never trod before.   
 
-Sir Thomas Moore, "The Lake of the Dismal Swamp"
A popular haunt for corpse harvesters in the nineteenth century, who emptied its graves to fuel the lectures and research of local medical schools, Boston's Copp's Hill Burying Ground has long been thought haunted by ghouls and vengeful spirits. The murderer John White Webster is said to rest here in an unmarked tomb, and the Lovecraftian tale "Pickman's Model" speculates that the place is a hive of undeath and rot, a gathering ground for restless souls and unrealized doom. There is a rumor that small children around Copp's Hill are still not allowed outside past dark.
Boston is a city of history, home to strange and often gruesome happenings. It was our first home and gave rise to many of our most famous creations. Fragrances of dark animus and warped design.
Fragrances like Hallows.
Taking inspiration from the swamps and churchyards of the city, we combine vetiver, oakmoss, black pepper, cocoa, labdanum, and cedar to produce a deep, cold scent suited to the chilly, bitter days of late October. Gloomy, rich, and perversely elegant, Hallows is a reminder of why men once feared the dark.

Net Wt. 3.5 fl oz
Directions for Use
Shake aftershave into your palms (we recommend an amount about the side of a quarter) and rub them together for 3 seconds. Rub your palms over your freshly shaven skin. There may be a mild sting upon initial application, but your face is about to look, feel, and smell awesome. We know you can handle it.
Ingredients
SD Alcohol 40-B (Alcohol Denatured), Witch Hazel Water (Hamamelis Virginiana), Water (Aqua), Fragrance, Glycerin, Taurine, Chlorella Vulgaris/Lupinus Albus Protein Ferment, Eleuthero Root Extract (Eleutherococcus Senticosus), Allantoin, Aloe Leaf Extract (Aloe Barbadensis), German Chamomile Flower Extract (Matricaria Recutita), Organic Licorice Root Extract (Glycyrrhiza Glabra), Acetylsalicylic Acid, Sodium Lactate, Provitamin B5 (DL-Panthenol), Citric Acid, Benzoic Acid
Made in USA
---
We Also Recommend
---