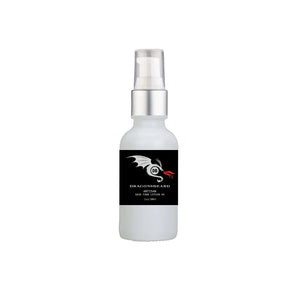 Ethos Grooming Essentials - Dragonsbeard - Skin Food Lotion - 60ml
Ethos Grooming Essentials - Dragonsbeard - Skin Food Lotion - 60ml
2.0 oz / 60 ml
Dragonsbeard Skin Food Lotion is our newest formula of Skin Food Lotion and contains a natural Aroma Blend and many beneficial active skincare ingredients that address both the epidermis and dermis layer of the skin. Like most ETHOS Grooming Essential products, it contains our proprietary EOS Complex, which means Earth • Ocean • Science. This unique mélange of 36 luxurious, exotic, and beneficial skincare ingredients, along with other ingredients contained in the lotion, will enhance the overall condition and feel of the skin with continuous use.
Usage
After rinsing your shave soap off, gently pat dry your face, leaving a little bit of dampness, and immediately pump some Skin Food Lotion into your hands and distribute all over the areas you've shaved. You can also use this on other parts of your face to enhance the condition of the skin. This non-alcohol lotion takes longer to dry, so before putting on another product or a cologne, give it a chance to dry. Even though the lotion doesn't contain alcohol, we don't advise getting it near your eyes.
Ingredients
Aloe Vera Juice, Hamamelis Virginiana (Witch Hazel), EOS Complex, Organic Vegetable Glycerin, Oat Amino Acids, Ceramide Complex, Sorbitan Oilvate, Aroma Blend of Cambodian Agarwood Oil, Oud Resin, Amber Oil, East Indian Sandalwood Oil, Tonka Bean Butter, Organic Madagascar Vanilla Bean Infusion Oil, Organic Rose Damask Absolute, Green Tea Extract, Polysorbate 20, Niacinamide, D-Panthenol, Collagen Protein, Hyaluronic Acid, Allantoin, Organic Liquid Lecithin, Organic Acacia Gum, Xanthan Gum, Caprylic/Capric 1000, Aloe Vera Extract, Sea Buckthorn Extract, Honeysuckle Extract, Calendula Extract, Capritolin (Natural Preservative).
FOR EXTERNAL USE ONLY: If irritation occurs, discontinue use immediately.
Handmade in the USA.
---
We Also Recommend
---