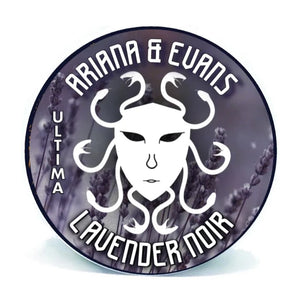 Ariana & Evans - Lavender Noir - Ultima Base Shaving Soap
Description From A&E:
Ultima Base
The Ultima formulation is rich and luxurious. 
I believe it sets a new standard in post shave feel. Ultima is easier, requires less water and provides the most amazing lather in the industry. 


Lavendar Noir is a warm & somewhat dark lavender scent which I think will become a big time crowd pleaser. I'm not aware of anything smelling quite like this and believe this will represent our luxury line quite well. As mentioned, Lavender Noir offers a very warm and wonderful lavender fragrance using two types of lavender. LN  leads with its tangy passion of Bergamot, while lavender and geranium blend into a fresh note, chic and chivalrous all at once. The lavender is most prominent. I'm using two types of lavender. Lavender absolute, which is paste-like and lavender Grosso a beautiful French hybrid. The composition is enhanced by the natural elegance of pink pepper, which I use quite often. The base settles on a bed of vanilla and agarwood with an intriguing note of coffee added. Lastly, I used Siam Benzoin direct from Thailand.
bergamot, mandarin, lavender, geranium, sambac jasmine, oud, patchouli, amber, pink pepper, vanilla, coffee, amber, patchouli, benzoin.
. 
Ultima Ingredients: Stearic, Tallow, Glycerin, Beer, Shea Butter, Kokum Butter, Shorea Butter (India), Sunflower Oil, Castor Oil, Cupuacu Butter (Brazil), Mango Butter, Cocoa Butter, Palm Fruit Oil, Olive Oil, Emu Oil, Jojoba Oil, Xanthan Gum, Agave, Sodium Lactate
---
We Also Recommend
---