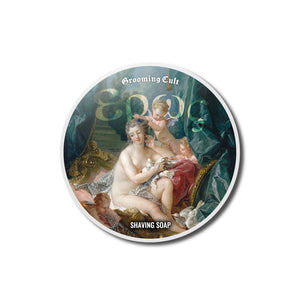 Grooming Cult - Eros - Artisan Shave Soap - 4.4 oz
Grooming Cult - Eros - Artisan Shave Soap - 4.4 oz

EROS
Sweet and seductive floral and woody, amber and warm spicy notes of saffran, jasmine, amberwood, resin, cedar.

Scent strength: Light to Medium
Eros is a tantalizing fragrance that combines elegance and sensuality in a truly remarkable way.
Opens with top notes of jasmine and saffron, which immediately capture the attention with their alluring sweetness and spice. As the scent develops, middle notes of ambergris and cedarwood deepen the fragrance, adding a warm and earthy quality that is both inviting and sophisticated.
The overall effect is one of pure luxury and indulgence, with a distinctive blend of floral, woodsy, and musky notes that come together to create a scent that is both unique and unforgettable.
VX VEGAN BASE
This vegan shaving soap is specifically designed to provide an exceptional shaving experience that can be enjoyed every day. Its carefully selected blend of plant-based ingredients creates a rich and dense lather that offers excellent protection and slickness, making shaving a smooth and effortless process.
With its easy-to-use formula and superior performance, this vegan shaving soap is the perfect addition to any daily grooming routine.
The VX shaving soap formulation is carefully crafted to provide a luxurious and nourishing shaving experience. It features a unique blend of plant-based ingredients that work together to soothe, protect, and moisturize the skin while creating a rich and creamy lather with low volume and high dencity that delivers a smooth, effortless shave.

At the heart of this shaving soap formulation are several premium plant-based butters, including shea butter, kokum butter, mango butter, and cocoa butter.
These butters provide exceptional moisture to the skin, helping to restore and balance its natural oils while creating a protective barrier against the blade.
In addition to these nourishing butters, this vegan shaving soap also contains a carefully selected blend of plant-based oils, including castor oil, avocado oil, apricot kernel oil, jojoba oil, grapeseed oil, wheat germ oil, and hemp seed oil.
These oils work together to deeply hydrate the skin, delivering essential fatty acids, vitamins, and antioxidants that help to promote healthy skin.

To enhance the moisturizing and soothing properties of this vegan shaving soap, coconut milk and aloe vera juice have been added to the formulation. Coconut milk is rich in lauric acid and vitamins C and E, which help to nourish and hydrate the skin, while its natural antimicrobial properties help to protect against infections and irritations. Aloe vera juice, on the other hand, is renowned for its cooling and calming effects on the skin, making it an ideal ingredient for soothing razor burn and other forms of skin irritation.

This formulation also contains calendula and chamomile extracts. Calendula extract is known for its ability to soothe and heal the skin, making it ideal for use in shaving products to prevent razor burn and inflammation. Chamomile extract is another powerful skin-soother, with natural anti-inflammatory and antiseptic properties that can help to calm irritated skin and promote faster healing.
Together, these ingredients make this vegan shaving soap formulation exceptionally gentle and nourishing, providing a luxurious and indulgent shaving experience that leaves the skin feeling soft, smooth, and revitalized.


VX VEGAN SOAP BASE INGREDIENTS: Aqua, Stearic Acid, Butyrospermum Parkii (Shea) Butter, Ricinus Communis (Castor) Seed Oil, Palmitic Acid, Potassium Hydroxide, Garcinia Indica (Kokum) Seed Butter, Mangifera Indica (Mango) Seed Butter, Parfum, Glycerin, Sodium Hydroxide, Cocos Nucifera Fruit Extract, Persea Gratissima (Avocado) Oil, Prunus Armeniaca (Apricot) Kernel Oil, Theobroma Cacao (Cocoa) Seed Butter, Cocos Nucifera (Coconut) Oil, Vitis Vinifera (Grape) Seed Oil, Cannabis Sativa (Hemp) Seed Oil, Sodium Lactate, Simmondsia Chinensis (Jojoba) Seed Oil, Triticum Vulgare (Wheat) Germ Oil, Bentonite, Aloe Barbadensis Leaf Juice Powder, Chamomilla Recutita Flower Extract, Calendula Officinalis Flower Extract, Tocopheryl Acetate.

Size: 4.4oz / 125g
Made by Grooming Cult in Greece

---
We Also Recommend
---