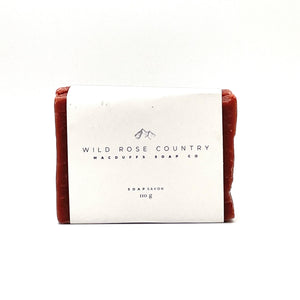 MacDuffs Soap Co. - Wild Rose Country - Bar Soap Made with Aloe
Description from MacDuffs:
Autumn Cabin
Notes: Rose Blend, Sandalwood, Oud, Cognac, Black Pepper, Atlas Cedar, Patchouli, Hay Absolute, Palmarosa, Labdanum, Benzoin
"Blessed is the person too busy to worry in the day time and too tired to worry at night." - Prairie Proverb

Wild Rose Country is inspired by wild rose, the official flower of Alberta and is one of my original scents that started off as a simple four essential oil blend. This iteration of Wild Rose Country is an approach to perfumery I have yet to try-- a duplicate of a pre existing fragrance usually from the perfumery world, more commonly known as a "dupe." As I'm not one to disappoint those who have come to appreciate my style of scent blending, I've combined two dupes with a good portion of my own approach, for something unique to Macduff's Soap Company.

Wild Rose Country combines a dupe of Rose 31 by Le Labo (30 percent of the scent blend) and Killian's Angel Share (20 percent of the scent blend). The remaining 50 percent is a creation of my own that combines my own natural imitation rose blend (ho wood, rose geranium, Egyptian geranium and rosewood), a touch of atlas cedar, hay absolute and palmarosa (a holdover to prior versions of WRC) that lend a slight "grassy" touch, and a base of benzoin, vanilla, sandalwood, labdanum and oud.
The resulting scent is a sweet and spicy rose that has a rich, warm and woodsy base.
*There is no such thing as maple essential oil, so the accord represents my sincere effort to capture an authentic aroma, adding a touch of natural realism to the blend. It contains various cedars including the spicy and rich "atlas cedarwood," citrus, cade, cardamom and evergreens. This maple accord is also available for individual purchase, offering you the opportunity to infuse your surroundings with the essence of autumn.
Our soaps are:
Made with aloe vera.
Coloured naturally with clay
Formulated with a blend of seven complimentary oils
Creamy, rich and full of skin nourishing vitamins.
Long lasting and firm: we don't sell our soaps until they've cured for at least six weeks
Cut to fit perfectly into your hand.
Moisturizing: our soaps have avocado oil and ten percent raw, unrefined organic shea butter.
Bubbly: there's a big and stable lather thanks to the addition of castor oil.
Vegan
Weight: 110-125 g after a 12 week cure. Please allow for some variation since the soaps are handmade in small batches
Ingredients
Olive Oil
Coconut Oil
Fair Trade & Organic Shea Butter
Avocado Oil
Grapeseed Oil
Sunflower Oil
Castor Oil
Aloe Vera
Clay
---
We Also Recommend
---