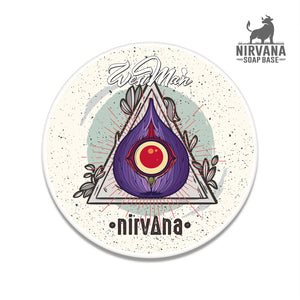 WestMan Shaving - Nirvana - Artisan Shaving Soap - Made in Portugal
Fig, Sandalwood, Cardamom, Carnation, Myrrh, Musk, Cedar
Nirvana features a harmonious blend of Fig and Sandalwood, enriched with a captivating selection of supporting notes. Perfect for gentlemen who appreciate the art of scent and take pride in their grooming ritual. Originally released in June 2022 as a special edition for the facebook group "O Lado Gourmet do Barbear", this fragrance now returns as a new regular collection.
The Fig invokes a sense of natural sweetness and freshness. It was important to make it as close to nature as possible. It does not smell too sweet/ripe or green like a fig leaf. It is more of a happy medium with balanced green and sweet tones. The heart of the fragrance is rich in warm and woody Sandalwood. Then a touch of floral elegance from the Carnation note, the spicy features of Cardamom, the resinous qualities of Myrrh, the subtle animalic facet from Musk and finally, woody and earthy tones of Cedarwood to anchor the scent.
Figs are among the oldest fruits known to man. It is therefore not surprising that they are mentioned in several ancient scriptures. Nonetheless, it is still interesting to see how different religions make more or less important references to Fig (either fruit, leaf or tree). In the Old Testament, Adam and Eve covered their nakedness after eating the forbidden fruit. There is a story in the New Testament where Jesus cursed a barren fig tree. In the Quran, figs are considered one of the six fruits of paradise. But more importantly for our inspiration in choosing the name of this collection, Buddha achieved enlightenment (Nirvana) under a fig tree. Secrets of the world.
The Nirvana Soap Base
The Nirvana soap base is nothing but a natural evolution of Westman's original soap base and what we learned from the old formula. The modifications result in greater rentability, improved lather consistency, slickness, as well as a comfortable, skin-loving post-shave feel.
Changes include new ingredients such as broccoli seed oil instead of apricot kernel oil for better absorption by the skin. The inclusion of dimethicone due to its excellent lubricating properties. In addition, the simplification of the formula, which contains fewer saponified fats, allows us to increase the concentration of the really important fats such as kokum butter and mango butter to obtain a denser and shinier lather. Other key ingredients include tallow, lanolin, jojoba oil, avocado oil and many more.
Experience a superlative shave.
Composition
INGREDIENTS: Aqua, Potassium Kokum Butterate, Potassium Tallowate, Glycerin, Potassium Stearate, Potassium Mango Butterate, Parfum (Fragrance), Dimethicone, Sodium Kokum Butterate, Potassium Castorate, Sodium Tallowate, Lanolin, Sodium Stearate, Sodium Mango Butterate, Brassica Oleracea Italica (Broccoli) Seed Oil, Butyrospermum Parkii (Shea) Butter, Persea Gratissima (Avocado) Oil, Sodium Lactate, Simmondsia Chinensis (Jojoba) Seed Oil, Sodium Castorate, Caprae Lac (Goat Milk) Powder, Xanthan Gum, Kaolin, Tocopherol (Vitamin E), Coumarin, Limonene.
Recommended Use
Swirl a damp shaving brush on the dry surface of the soap in circular motions from 30 seconds (if using stiff brush) to 60 seconds (if using a soft brush). Aim to create a thick paste on the tips of the brush. A little pressure is good. It may be helpful to add a few drops of water to the surface of the soap halfway through.
Take the loaded brush and start "painting" the soap paste onto the area that you want to shave. To begin lathering, add a few drops of water on the tips of the brush and apply to the area in a circular motion. Repeat this process - add water/swirl - as many times as desired to achieve your prefered lather consistency.
When you are finished shaving, rinse the excess suds from the surface of the soap and allow it to dry. After a few hours, you can close the lid and store the soap in a cool, dark and dry place.
---
We Also Recommend
---