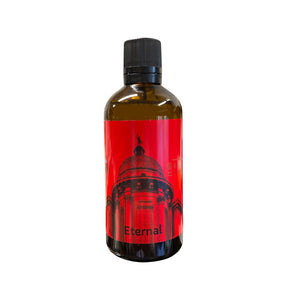 345 Soap Co. - Eternal - Aftershave Splash - 100ml
Eternal
An exclusive to The Razor Company
100ml
Scent inspired by Kilian Straight To Heaven
Notes:
Top Notes Dried fruits, Rum Heart Notes Patchouli, Nutmeg, Jasmine Base notes Vanilla, Cedarwood, White musk, Amber, Rosewood
With the skin loving ingredients this aftershave compliments the matching soap. This aftershave not only nourishes your skin after your close shave, but that it replenishes rejuvenates, and reinvigorates your skin. The scent carries with you for a while, but won't be over whelming. You will still enjoy the scent, without overpowering your family and friends when you walk into the room. With this large 4 ounce bottle it will last for a long time!
let's talk about the base upgrades. Skin loving oils: I kept trying to make the shaving experience more effective and efficient. Post shave is where we needed to upgrade out aftershave. We added some Jojoba, Apricot, Almond oils and Hydrolized Silk Protein. Adding these will help the skin feel smooth, slick, and nourished. These noncomedogenic oils (oils that won't clog pores) help support the post shave experience. Jojoba oil is known to be as close to our natural oils. That's one reason why it's absorbed so well into the skin.
345 Base Ingredients: Alcohol, Witch Hazel, Distilled water, Hydrovance, Rose Hydrosol, Jojoba oil, Almond oil, Apricot oil, Hydrolized Silk, Aloe Vera, Vitamin E, Fragrance.
100ml
---
We Also Recommend
---