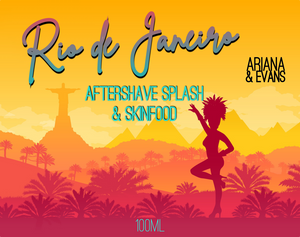 Ariana & Evans - Rio de Janeiro - Aftershave Splash
Ariana & Evans 
This scent is really quite interesting and inspired by my journey to Bali in 2019. If you ask what this smells like. I'm not sure of anything quite like this scent. It offers a hint of leather, ink & absinthe, but much more went into this to create the fragrance of Indo-Ink. As mentioned, Indo-Ink is inspired by my trip to Asia and specifically a tattoo shop where I had an ancient temple tattooed beside my Ganesh. Imagine an old tattoo parlour, incense burning in a far away room, a wall full of old periodicals and new publications alike. The scent of worn leather chairs and a resinous smell which is hard to describe...but it's there. I worked real hard in creating this scent based upon my recollection of the room, people and ambiance of this Indonesian tattoo shop.
Notes: Mandarin, Ink, resins, absinthe, ylang ylang, coumarin, tonka, leather, incense, saffron, oud, tobacco, wormwood & sandalwood
Artisan Made in the USA

Ingredients: Aloe Vera Juice, Vegetable Glycerin,  SD 40B Alcohol, Rose Hydrosol, Calendula Extract , Red Clover Extract, Chamomile, Plantain Leaves, White Willow Bark, Vitamin E, Caprylic Triglycerides ( combination of plant sugars and fatty acids derived from palm and coconut oils for silkier feel and as a natural preservative).
---
We Also Recommend
---