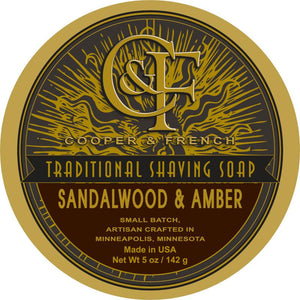 Cooper & French - Sandalwood & Amber Shaving Soap - 5oz
Scent Profile:  Close your eyes and surround yourself with the sophisticated appeal of Sandalwood and Amber. A classic combination that provides intoxicating depth but is calm and soothing. You'll also notice mild notes of velvety smooth vanilla and oak undertones. An extraordinary combination that's been around for as long as shaving's been a tradition.
Your shaving soap doesn't have to smell like chemicals. And a good scent doesn't have to leave once the blade does. 
Like all of our products, our Sandalwood and Amber is made of all-natural ingredients that smell amazing and last for hours. This blend is smooth and woodsy — a true classic: 
Sandalwood.

If you're looking for that lazy, artificial sandalwood scent, this isn't it. This is the charming, woodsman scent of strength and work ethic that is sandalwood-amber. Down to earth but cured and suave, like a fine scotch. 

Thick Foam.

It's got the lather you never knew you needed. A close shave, smooth skin, and extra protection. Yes, yes, and yes.

Top Quality.

 No funky ingredients here, we promise. We source our ingredients from only the highest quality merchants. Enjoy nature's finest coconut oil, sunflower seed oil, Shea butter and more.
The Sandalwood tree's warm, log cabin essence has been a vital element to scent makers for centuries. Amber is a soft and slightly sweet scent, making it the perfect addition. Together, these two aromas create a masculine but approachable aura. 
In addition, our Sandalwood and Amber formula is made with natural ingredients like coconut oil and avocado oil, which bring the moisture your skin craves. (100% void of the nasty chemicals found in most corporate products.)
Ingredients: Distilled Water, Potassium Stearate, Cocos Nucifera (Coconut) Oil, Potassium Tallowate, Sodium Stearate, Helianthus Annuus (Sunflower) Seed Oil, Ricinus Communis (Castor) Seed Oil, Sodium Tallowate, Persea Gratissima (Avocado) Oil, Fragrance, Glycerin, Butyrospermum Parkii (Shea) Butter, Sodium Lactate
---
We Also Recommend
---