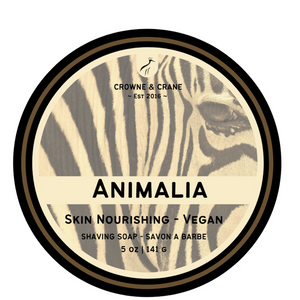 Crowne and Crane - Animalia - Vegan Shaving Soap
ANIMALIA VEGAN SHAVE SOAP
ANIMALIA shaving soap is made using our vegan formula offering the same excellent lather, cushion, and slickness that our customers receive with our tallow soap. We wanted our vegan's performance to on par with our tallow, and we are told the vegan formula is hard to distinguish from the tallow. Wet shavers can now select their shave soap of choice in either tallow or vegan with the confidence they will receive the same excellent performance they have come to expect of our tallow soap.

Some have described this ANIMALIA scent to be almost spot-on to one used at a fairly well-known hotel in southern Florida. The name may be a hint, but since there is no affiliation and not intended as a dupe, along with the fact that many of us have never visited said hotel, we'll elect not to do a name drop. Will be interesting though to see if we receive any feedback from those who might be able to recognize it. Regardless, it' s a nice unisex blend that we expect customers to enjoy in their rotation year round. The profile of this scent includes notes that are warm and comforting such as vanilla and tonka. To spice it up a tad, you'll find white tea and saffron included in the mix along with a nice, woody presence of exotic sandalwood and fresh-picked tobacco leaf.  
(Only premium ingredients go into the formulation of our tallow and vegan soaps. In formulating our vegan blend, tallow, lanolin, and tussah silk have been removed and replaced with carefully-selected ingredients that bring back those qualities vital to a superb performing shave soap. Customers looking for a premium vegan shave soap alternative can now enjoy their shave with a vegan soap without any sacrifice in performance. Replacements ingredients include organic coconut oil, organic coconut milk, and imported cupuacu butter, which is considered a lanolin substitute.) 

Ingredients: Potassium Stearate, Sodium Stearate, Aloe Vera Juice, Potassium Cocoate, Sodium Cocoate, Phthalate-Free Fragrance, Organic Coconut Milk, Potassium Shea Butterate, Sodium Shea Butterate, Potassium Kokum Butterate, Sodium Kokum Butterate, Potassium Cupuacu Butterate, Sodium Cupuacu Butterate, Sodium Lactate, Glycerin
5 oz Jar
Discontinue use if irritation occurs.
Made in the USA
---
We Also Recommend
---