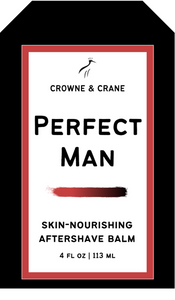 Crowne and Crane - Perfect Man - Artisan Aftershave Balm
PERFECT MAN SKIN-NOURISHING AFTERSHAVE BALM
Instead of drying your skin with an alcohol-based aftershave, nourish you skin with one of our aftershave balms that will leave your skin feeling moisturized without a trace of oiliness.  Our balms are offered in scents that pair beautifully with our shave soaps.
Formulated as an excellent after-shave treat for men and women, all of the ingredients in our balms have been carefully selected to be quickly absorbed into the skin, leaving your skin with that smooth, hydrated feeling throughout the day.  You'll smell great, and your skin will thank you for it. 

Just like our matching shave soap, the scent profile of PERFECT MAN was formulated in the likeness of the well-known and popular cologne Bleu de Chanel. Not an exact duplication but an original creation, this one met the standards of what a Perfect Man might wear; and we think in that effort, the perfumer nailed it. Combined to bring you this amazing scent are notes of natural patchouli, vetiver, frankincense, peppercorn, jasmine, a hint of peppermint, Japanese grapefruit, cedar, labdanum, ginger, lemon, aquatic marine notes, and bergamot.   

Directions for Use: A little goes a long way. Start with a raisin-sized dollop of our aftershave balm, apply to face, and gently massage into skin until absorbed. 

* All fragrances used include the highest quality essential oils and/or phthalate-free fragrance.
* Including a preservative is necessary in balms; ours is paraben free.
* No animal testing ever on any of our products.
* Product is best when used within 9-12 months from date of purchase
* Balms are often made to order. Please allow an additional 24-48 hours for product preparation and shipping. We will make every effort to get your products out as quickly as possible.
* For External Use Only. Please check the ingredients list carefully to check for known allergens, including tree and fruit nut oils and butters. Should any sensitivities occur, please discontinue use.
Ingredients: Aloe Vera Juice, Distilled Water, Meadowfoam Seed Oil, Avocado Oil, Sweet Almond Oil, Emulsifying Wax, Glycerin, Stearic Acid, Mallow Extract, Fragrance, Rosehip Seed Oil, Vitamin E, (Paraben-Free Preservative containing Propylene Glycol, Diazolidinyl Urea, Iodopropynyl Butylcarbamate)  
4 oz Tottle
Discontinue use if irritation occurs.
Made in the USA
---
We Also Recommend
---