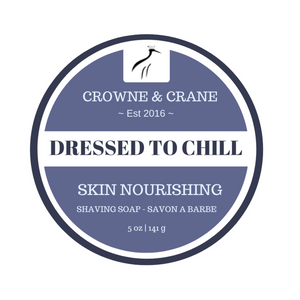 Crowne and Crane - Dressed to Chill - Artisan Shaving Soap
DRESSED TO CHILL SHAVING SOAP
Dressed to Chill is a sophisticated twist on the traditional earthy patchouli scent. Perfect for those wanting to look sharp while feeling chill.  Talking about the sort of days when pairing a crisp linen jacket over a favorite pair of jeans and chukkas (socks optional) just works.
The note profile in this blend is similar to Crate & Barrel's Patchouli & Linen and includes a mix of classic linen fragrance layered over patchouli's sweet earthiness, intermingled with a blend of white vanilla musk, cedarwood, delicate florals, and a sweet fruity mixture. So kick back and chill while looking and smelling irresistibly refined.
(This is a tallow-based shaving soap using only premium quality ingredients. Some of our ingredient superstars include shea butter, kokum butter, glycerin, and lanolin. The tallow we use is of unsurpassed quality using only the kidney fat, and we are committed to only using 100% organic raised and certified organic grass-fed beef, free from antibiotics, synthetic hormones, GMO feed, or pesticide exposure.)   

5 oz Jar
Ingredients: Potassium Tallowate, Sodium Tallowate, Potassium Stearate, Sodium Stearate, Aloe Vera Juice, Potassium Cocoate, Sodium Cocoate, Phthalate-Free Fragrance, Potassium Shea Butterate, Sodium Shea Butterate, kokum butter, Sodium Lactate, Glycerin, lanolin, Tussah Silk
Discontinue use if irritation occurs.
Made in the USA
---
We Also Recommend
---