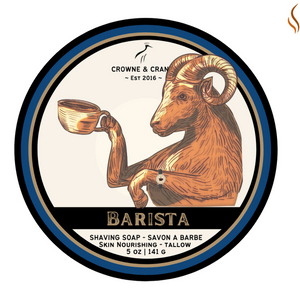 Crowne and Crane - Barista - Artisan Shaving Soap
BARISTA TALLOW SHAVE SOAP 
BARISTA shaving soap is made with our popular grass-fed tallow formula and offers excellent lather, cushion, and slickness that wet shavers expect of a premium shave product.

The scent profile of BARISTA is a culmination of the smells one might find in one of those quaint coffee houses that also offer a tempting selection of freshly-baked sweet breads and pastries. You immediately pick up a hint of coffee, lemon, and apple which soon gives way to a subtle herbal mix (lavender, spearmint, and orange flower absolute). The lavender gets a little more attention of the three in the middle, but pretty quickly come the waves of steamed sweet milk. Rich woods such as Sri Lankan Sandalwood and cedarwood make their presence to solidify the base, but it is the sweetened steamed milk that gives that creamy warmth to the base and keeps stealing the show. Barista is our interpretation of the Maison Margiela cologne, "Coffee Break." 
(BARISTA is a tallow-based shaving soap using only premium ingredients. The tallow used in our shave soaps are of unsurpassed quality using only the suet (kidney fat).  When sourcing our ingredients, we aren't looking for the cheapest, only the best, and are committed to only using 100% organic raised and certified organic grass-fed beef, free from antibiotics, synthetic hormones, GMO feed, or pesticide exposure. We are confident this superb tallow, together with other ingredients used in our formula, such as shea butter, kokum butter, aloe vera juice, vegetable glycerin, and lanolin, offer our customers an incredibly comfortable, long-lasting, and unforgettable shave.) 
Ingredients: Potassium Tallowate, Sodium Tallowate, Potassium Stearate, Sodium Stearate, Aloe Vera Juice, Potassium Cocoate, Sodium Cocoate, Phthalate-Free Fragrance, Potassium Shea Butterate, Sodium Shea Butterate, Kokum Butter, Sodium Lactate, Glycerin, Lanolin, Tussah Silk
Available in 5-oz jars, 3-oz pucks, and .75-1.0-oz samples. 
For External Use Only. Please discontinue use should any sensitivities occur.
Crowne & Crane is in no way affiliated with the Maison Margiela Co.
5 oz Jar
Discontinue use if irritation occurs.
Made in the USA
---
We Also Recommend
---