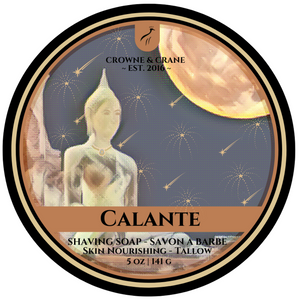 Crowne and Crane - Calante - Vegan Shaving Soap
CALANTE TALLOW SHAVE SOAP
Calante is a nice, fresh-scented soap with a dash of spiciness that is our interpretation of the Prada cologne Luna Rossa. In this fragrant blend you'll find the savory note of juniper berries, a warm, creamy addition of vanilla and tonka bean, a splash of fresh and calming lavender, and finally, a dash of ginger that adds that touch of spiciness to the blend.  
(CALANTE is a tallow-based shaving soap using only premium ingredients. The tallow used in our shave soaps are of unsurpassed quality using only the suet (kidney fat).  When sourcing our ingredients, we aren't looking for the cheapest, only the best, and are committed to only using grass-fed beef. We are confident this superb tallow, together with other ingredients used in our formula, such as shea butter, organic kokum butter, aloe vera juice, vegetable glycerin, and lanolin, offer our customers an incredibly comfortable, long-lasting, and unforgettable shave.) 
Ingredients: Potassium Tallowate, Sodium Tallowate, Potassium Stearate, Sodium Stearate, Aloe Vera Juice, Potassium *Cocoate, Sodium *Cocoate, Phthalate-Free Fragrance, Potassium Shea Butterate, Sodium Shea Butterate, *Kokum Butter, Sodium Lactate, Glycerin, Lanolin, Tussah Silk
* Coconut Oil and Kokum Butter are organic.
Available in 5-oz jars, 3-oz pucks, and .75+ oz samples. 
For External Use Only. Please read ingredient label to check for known allergens such as tree or fruit nut oils and butters. Should any sensitivities occur, please discontinue use. 
* Crowne & Crane is in no way affiliated with Prada.
5 oz Jar
Discontinue use if irritation occurs.
Made in the USA
---
We Also Recommend
---