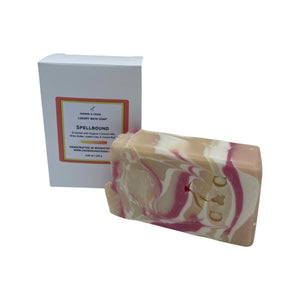 Crowne and Crane - Spellbound - Bath Soap Bar
SPELLBOUND  BATH SOAP

SPELLBOUND bath soap is made with the highest quality oils, selected for their skin-loving qualities. Organic Coconut Milk, Aloe Vera Juice, Colloidal Oatmeal, and Kaolin Clay have been added to help create the rich, creamy lather that help distinguish our soaps from some of the others. All of our added fragrances are essential oils, phthalate-free fragrance oils, or a combination of the two. Our soaps contain no parabens, phthalates, detergents, or silicones. Glycerin, which is a natural byproduct of soap and excellent for the skin, is retained in our finished product. Expect a fragrant, clean, bubbly bar of soap made with carefully-selected skin-loving oils, butters, milks, juices, clays, fragrance & color that, in combination, provide a soap you'll be happy to use or to give.    

The fragrance of Spellbound is a combination of essential oils and phthalate-free fragrance oils that together create our interpretation of the VS fragrance Love Spell.  Notes of white jasmine mingle with ripened peaches, cherry blossoms and juicy oranges to create this fresh, sweet blend of juicy summer fruits mixed with a bit of floral.  Spellbound is one of those playful scents -flirty and fun. Available soon in a moisturizing lotion, sugar scrub, and emulsified body butter.          
Crowne & Crane's bath bars are all crafted by hand in small batches. All formulations include only high-quality, responsibly-sourced ingredients, selecting oils, butters, clays, milks and other ingredients that will offer a nice balance of cleansing, creamy, and conditioning soap goodness. 

*  All fragrances used are either essential oils, phthalate-free fragrance, or a combination of the two.
*  Each Spellbound Bath Bar weighs approximately 4.25+ ounces.
*  Due to the nature of handmade soap, there may be slight variations in the weight and design in individual bars.
*  To extend the life of your handmade soap, it is best to allow bars to dry out between uses.
*  This product is for external use only. Please read through the ingredients list to check for known allergens. If any sensitivities should occur, please discontinue use.
Ingredients:  Olive Oil, Coconut Oil, Palm Oil (Responsibly Sourced), Sodium Hydroxide, Organic Coconut Milk, Aloe Vera Juice, Fragrance, Shea Butter, Castor Oil, Canola Oil, Distilled Water, Colloidal Oatmeal, Kaolin Clay, Sodium Lactate, Mica, Titanium Dioxide
* Crowne & Crane is not affiliated in any way with Victoria Secret. 
---
We Also Recommend
---