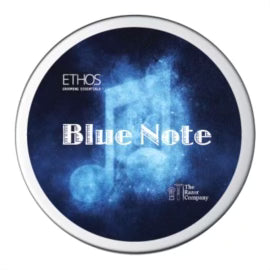 Ethos Grooming Essentials - Blue Note - Tallow Shave Cream - 4.5 oz
ETHOS GROOMING ESSENTIALS
Exclusive to The Razor Company
Blue Note - Scent inspired by Maison Margela Jazz Club
4.5 oz. / 133 ml
Our new Tallow Shave Crème, Blue Note, is a collaboration with The Razor Company.  This Shave Crème is the perfect base to highlight difficult Aroma Blends with Citrus that would be affected by the high temperatures normally found in the shave soap making process. In this Crème base, the Aroma Blend can be added at room temperature so the strength is more pronounced.
The Shave Crème contains our proprietary EOS Complex, which means Earth • Ocean • Science. This unique Mélange of 36 luxurious, exotic, and beneficial skincare ingredients along with Mango Powder Fruit Extract, Sheep Milk, Ceramides, Proteins, Butters, Oils, and Hyaluronic Acid will enhance the overall feel and condition of the skin with continuous use.
Usage
Like all ETHOS shave soaps, the Tallow Shave Crème is easy to lather, and I recommend using an almond size amount for a full three pass shave if using a shaving bowl. The Crème takes a decent but not excessive amount of water so add a little at a time. You can also apply the Crème to your face with your hands or place it on the tip of your shaving brush. I recommend not rinsing the face completely between passes. Just add a quick splash of water, work it around and then lather up for your next pass. Thoroughly paint the lather on to distribute it after the initial swirling of the brush. This method will take the slickness to a whole other level!
This soap can be used with any natural hair or synthetic shaving brush. Everyone has their own method, so have fun experimenting with this new Tallow Shave Crème base and find what works best for you!
Ingredients

Aloe Vera Juice, Grass Fed Whipped Beef Tallow, Stearic Acid, Coconut Oil, Castor Oil, Potassium Hydroxide, Organic Vegetable Glycerin, Myristic Acid, Potassium Sorbate, Organic Shea Butter, Lemon Butter, Sheep Milk, Coconut Milk, Sodium Hydroxide, Rosehip Oil, Essential Oils of Sicilian Lemon, Pink Peppercorn, Vetiver, Clary Sage, Aroma Accords of Neroli, Rum, Tobacco Leaf, Vanilla, Orris Butter 10%, EOS Complex, Allantoin, Oat Amino Acids, Silk Amino Acids, Soy/Rice Peptides, Sorbitol, Organic Vitamin E Oil, Sodium Lactate, Ceramide Complex, Hyaluronic Acid Oil, Liquid Lanolin, Phenoxyethanol, Caprylyl Glycol, Sorbic Acid, Capritolin (Natural Preservative) Calendula Extract, White Willow Bark Extract, Aloe Vera Extract, Comfrey Extract, Milk Thistle Extract, Chamomile Extract.
FOR EXTERNAL USE ONLY: If irritation occurs, discontinue use immediately.
Handmade in the USA.
---
We Also Recommend
---