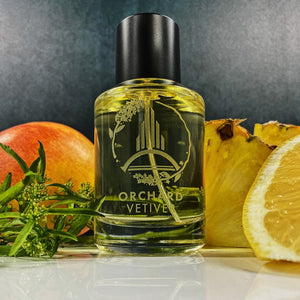 Flower City Fragrance - Orchard Vetiver - Eau de Parfum
Description from Flower City Fragrance:
Strong, deep, close-knit roots, resistant, survivor, diverse, tolerant, protector, healing, binding, stabilizing, adaptive, sustenance, medicine, noninvasive are all descriptions of chrysopogon zizanioides or the vetiver plant.  Vetiver oil distilled from the roots of the plant have always been an absolute favorite of mine in fragrance and aromatherapy, but recently I discovered the multifaceted uses for this plant from root to flower and am truly amazed.  Sometimes the true potential of something isn't apparent until you dig a little deeper.  I guess that's also how I feel about my new city, my new home…Rochester NY.  The more I dig, the more I'm inspired to keep going and discover the true gem that is the Flower City.   
Orchard Vetiver opens with bright notes of citrus, juicy pineapple, sweet stone fruits, revealing hints of musk and wood all held together with a clean, fragrant vetiver.
 Each full bottle purchase comes with two sample bottles, samples may be a current production or something I am working on for future releases.
All of our cruelty free, vegan fragrances are blended in house from high quality, carefully sourced materials. Each bottle is filled by hand and double checked for imperfections, we want to make sure you receive the best possible fragrance to add your rotation. We package our 50ml etched bottles in easily recyclable paper boxes with paper labels to minimize waste, our 10ml travel size bottles also use paper labels than can easily be removed.

All of our fragrances are bottled at 19% concentration for maximum performance and longevity. 
Prices include free shipping in the United States.
---
We Also Recommend
---