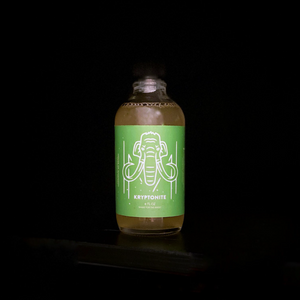 House of Mammoth - Kryptonite - Aftershave Splash
You're a superhero to someone. There are people who look up to you, and people who depend on you. But every superhero has a weakness.
True strength means being able to depend on others and ask for help when we need it. Don't hide your weaknesses. Ask for the help you need, and you'll be even more of a hero.
This splash features WS-23, a synthetic cooling agent that provides a mild but pleasant cooling sensation with no impact on the scent.
Notes: lime, litsea cubeba, balsam fir, cedar, cypress leaf, howood 
About the splash formula
The Mammoth Magic aftershave splash was based on Chicago Grooming Co's Good Oleo, but formulated for use as an alcohol splash.  It contains a variety of skin soothing ingredients to leave your skin feeling amazing all day.  It also includes a little bit of synthetic menthol for a mild refreshing feeling. Remember to shake before use! 
Splash Ingredients: 
 Alcohol, Witch Hazel, Water, Parfum, WS-23, 
DL Panthenol, Polysorbate 20, Jojoba Oil, Willow Bark Extract, Flaxseed Oil, Argan Oil, Squalane, Silk Protein, Vegetable Glycerin, Rosehip Oil, Shea Olein, Mango Seed Butter, Karanja Oil, Vitamin E, Daikon Seed Extract, Bisabolol, Allantoin, Aloe Vera Extract, Tea Tree Oil, Rectified Cade Oil
---
We Also Recommend
---