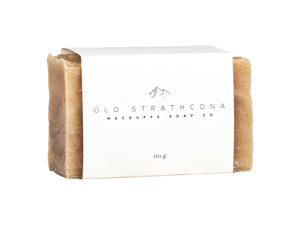 MacDuffs Soap Co. - Old Strathcona - Bar Soap Made with Aloe
Description from MacDuffs:
Notes: Bergamot, Lemon, Basil, Oakmoss, Tonka Bean, White Patchouli

"Every generation laughs at the old fashions, but follows religiously the new." - Henry David Thoreau

Strathcona was a trading town on the southern banks of the North Saskatchewan River, serving as neighbour and a trading partner with the city of Edmonton on the north bank. A few short years after finally reaching "city" status, Strathcona was absorbed by the faster growing Edmonton and was amalgamated in 1912. Today, this area is recognized as "Old Strathcona" and is home to the city's cultural center, hosting many of our festivals, independent theatres and music venues, all while communicating its history through original architecture, even it's train station remains.
It makes sense then that this history serves as the inspiration for my barbershop scent: a barbershop (as it applies to the perfumery world--the wet shaving world that word has a slightly different meaning) contains a strong "fougere" element (lavender, geranium, coumarin/tonka bean), a combination that was discovered by perfumers in the 19th century. Fougere has become a staple in the fragrance industry with many modern innovations that have continually revitalized the scent, keeping tradition alive while still moving forward.
Old Strathcona makes a bold herbal green opening with the inclusion of basil and tarragon, both of which share some similarities with anise but remain distinct and add their own nuances. Bergamot and lemon smooth out the opening which goes into a floral heart of rosewood. The base of the scent is the true star featuring white patchouli, tonka bean and oakmoss.
Excluded is the classic lavender addition to make room for rosewood, giving a different kind of floral sweetness distinct from the more popular lavender fougeres.
Our soaps are:
Made with aloe vera.
Formulated with a blend of seven complimentary oils
Creamy, rich and full of skin nourishing vitamins.
Long lasting and firm: we don't sell our soaps until they've cured for at least six weeks
Cut to fit perfectly into your hand.
Moisturizing: our soaps have avocado oil and ten percent raw, unrefined organic shea butter.
Bubbly: there's a big and stable lather thanks to the addition of castor oil.
Vegan
Weight: 110 g after a 12 week cure. Please allow for some variation since the soaps are handmade in small batches
Ingredients: 
Olive Oil
Coconut Oil
Fair Trade & Organic Shea Butter
Avocado Oil
Grapeseed Oil
Sunflower Oil
Castor Oil
Aloe Vera
---
We Also Recommend
---