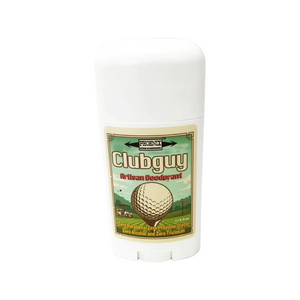 Phoenix Artisan Accoutrements - ClubGuy - Natural Deodorant - 2.65oz
A classic, barbershop scent that will instantly take you back to simpler times. Now you can pair your shave to more than just aftershave!
Classic scents with a modern twist & Possibly the best deodorant you have ever tried!
When someone says "Barbershop Scent", what classic aftershave immediately comes to mind? Yup, that's the one! We now bring you that wet shaving staple, "Club" scent without all the additives and questionable colorants. A longer lasting burst of yesteryear!


Absolutely zero parabens, propylene glycol, aluminum,alcohol or triclosan can be found in our creations (read: no chemical poison)
In all Field trials they have passed with flying colors: first dates, cocktail parties, camping, tight rope walking and the random briss...never failed once. Made with the purest & highest quality ingredients on earth. 
Our deodorants are handcrafted one batch at a time.  We use the best ingredients we can find to bring you a superior product.  
Not To Be Confused For Aluminum:
To be clear, my deodorant does not contain the bad stuff; aluminum chlorohydrate, aluminum chloride, aluminum hydroxybromide or aluminum zirconium—all forms of aluminum commonly used in antiperspirants and deodorants. To stop the flow of sweat to your skin's surface, the aluminum plugs sweat ducts in the top layer of your skin stopping the the natural flow of sweat to your skin's surface.
This "bad" aluminum can also be absorbed into your body where it can then build up as part of your body burden. Alzheimer's disease and cancer are two illnesses known to be associated with aluminum exposure. 
The stuff in my Extra Sport Formula is very different, called alum. The most common form is potassium alum, also known as potassium aluminum sulfate. 
Ingredients: Coconut Oil, Beeswax, Cocoa Butter, Arrowroot Powder, Shea Butter, Sodium Bicarbonate, Zinc Oxide, Organic Non GMO Corn Starch, Kaolin Clay, Organic Avocado Oil, Cape Aloe Powder,  Potasium Alum, Essential Oils and/or Fragrance
HANDMADE IN ARIZONA, USA
NET WT. 2.5OZ.
---
We Also Recommend
---