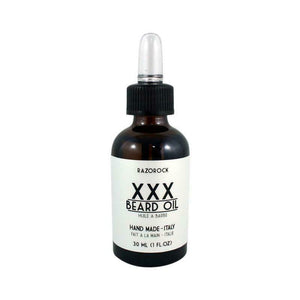 RazoRock XXX Beard Oil
For XXX, the scent begins with notes of Sicilian citrus and verbena but quickly dries down to subtle clean notes of lavender, rosemary, vetiver and talc. This is a citrus scent.
Why is beard oil important: The dreaded beard dandruff (Beardruff). If you wear a beard/goatee and the skin under it isn't properly hydrated, you will start getting beardruff which is terrible to look at and very itchy. The worst area is the chin so even if you sport a modern-day goatee, beard oil is a must!
How to use: Shake prior to use. Put a dime sized amount in your palm. Rub your palms together for 10-15 seconds to heat up the oil. Apply thoroughly throughout beard and onto skin underneath. Remember that a little oil goes a long way.
HAND MADE in ITALY
Size: 1 ounce (30 ml)
Format: Italian glass bottle with dropper
Ingredients: Sweet,Almond Oil, Argan Oil, Jojoba Seed Oil, Hemp Oil, Fragrance (Citral, Coumarin, Eugenol, Geranoil, Hydrocitronellal, Limonene, Linalool, Isoeugenol, A-Isomethylionone, Oakmoss)
---
We Also Recommend
---