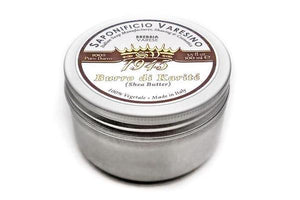 Saponificio Varesino - Pure Shae Butter Pre-Shave Skin Treatment
Description
Saponificio Varesino pure butter pre-shave treatments are designed to fight dryness by maintaining optimal levels of moisture to promote elasticity and skin tone.
Shea butter is extracted from the nut of the African shea tree and is one of the true gifts of nature. In addition to soothing and antibacterial properties, it is rich in Vitamins A, E and F which are essential for maintaining skin balance. Thanks to its moisturizing properties, it can also be used to treat eczema and diaper rashes.
Designed to be applied and absorbed into the skin overnight prior to shaving the following morning, the butter can also be used immediately before shaving if given time to absorb fully into the skin. The soothing properties of the butter allow its use directly on dry, inflamed, scaly or abraded skin.
Product size: 3.5 fl oz (100ml).
*Please note that due to the fluid nature of the product, the contents may settle or shift during shipment and tin may appear less full than expected.
---
We Also Recommend
---