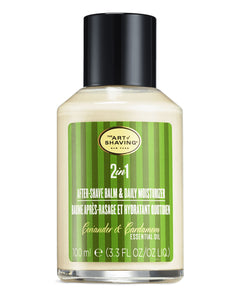 The Art of Shaving - Coriander and Cardamom - After-Shave Balm 3.3 oz
A refreshing spin on a classically warm and spicy scent, Coriander and Cardamom is inspired by fresh tonics from ancient spices. With subtle notes of balanced lavender, basil, blackcurrant, and sage, the Coriander Cardamom After-Shave Balm reveals woody and pepper facets. As a final step in The 4 Elements of the Perfect Shave® it is an essential part in achieving The Perfect Shave. After-Shave Balm replenishes moisture to soothe dry skin after shaving. With its blend of moisturizers and Essential Oils, After-Shave Balm will help deliver hydrated skin.
Features:
Formulated with a touch of Shea Butter and Grape Seed extract
Contains Glycerin and Essential Oils
Free from synthetic dyes and alcohol
Benefits:
Shea Butter and Glycerin help replenish moisture to the skin after shaving.
A touch of Grape Seed Extract helps revitalize the skin, while Essential Oils help condition the skin.
3.3 oz./ 100 mL
---
We Also Recommend
---