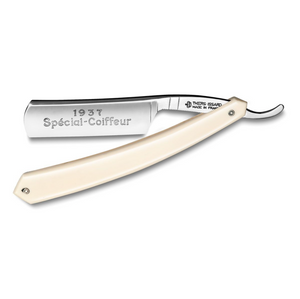 Thiers-Issard - 6/8 Straight Razor Special Coiffeur White - Shave Ready
Thiers-Issard - 6/8 Straight Razor Coiffeur White - Shave Ready
-shave-ready-
Half-Hollowed razors - Professional range
Forged from 100 % carbon steel
275 both sides satin polished
Round nose only
Anti-slip jimps on lower side of the tang
Black mark in electro chemical on blade
1937 spécial-coiffeur™ 
THIERS-ISSARD™ mark on tang
In black soft calf leather pouch
All razors are manufactured as since 1884 with the best steel in the world - C135
Always thoroughly dry our razors after use and ensure that they are free from moisture (blade and handle) when storing them. Indeed, our blades are made from 100 % carbon steel which is the best quality steel but does rust if not kept dry.
For occasional use, the blade should be covered with vaseline.
All our razors are shave-ready.
All our razors are packed in a leather pouch and in a printed "THIERS-ISSARD" white cardboard box with instructions for use.
---
We Also Recommend
---