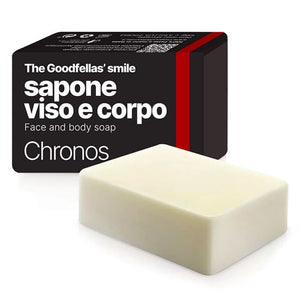 The GoodFellas Smile - Chronos - Face and Body Soap 100g
Description
The Goodfellas' smile Chronos Face and Body Soap 100gr
Simply made as in the past.
The Goodfellas' smile Chronos face and body soap 100gr is an Italian artisan product, formulated with utmost attention to the needs of the modern man.
Those who are accustomed to using liquid soaps often find the sensation of solid soap a bit unpleasant on the skin with an effect that we could define as skin tightening.
The Goodfellas' Smile solid soaps minimize this annoying effect, leaving the skin softer and more moisturized.
The Goodfellas' Smile solid face and body soap is an all-around product that perfectly covers all personal cleansing needs.
HANDMADE FACE AND BODY SOAP
The Goodfellas' handmade soap lasts much longer than any liquid shower gel or liquid soap and does not need any preservatives; instead, it contains chelators, i.e. substances that break down the metals in the oils and prevent them from going rancid and deteriorating over time.
WHY CHOOSE IT:
– Effective yet gentle on the skin
– Rich in glycerine, it is a natural product without preservatives
– Free of silicones, parabens, SLS, SLES, paraffins or petrolatum
– 100% Plastic-free packaging
WHAT IS THE HANDMADE SHOWER SOAP
The Goodfellas' smile soap is made by cold processing, a process that uses the natural chemical reaction of saponification without the use of heat sources. In this way, the soap is not subjected to long hours of cooking and retains the moisturising properties of the oils used.
HOW THE HANDMADE SHOWER SOAP IS USED
The Goodfellas' handmade shower soap is also and especially suitable for the skin of the face and body. In addition to the classic use for the hands, therefore, our handmade shower soap is suitable for cleansing the skin of the body in the shower.
Ingredients:Sodium palmate, Sodium palm kernelate, Aqua, Parfum, Palm kernel acid, Glycerin, Sodium chloride Alpha i somethyl ionone, Benzyl salicylate, Citronellol, Coumarin,Geraniol, Limonene, Linalool, Tetrasodium etidronate.
Made in Italy
100gr
---
We Also Recommend
---