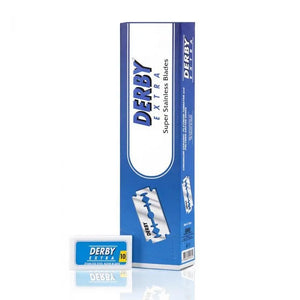 Derby Extra Blue - Double Edge Safety Razor Blades - 200 Blades
200 Double edge razor blades Derby Blue extra
"Chromium, ceramic, platinum, tungsten and polymer coated edges". The new technology used in the production of these razor blades makes them one of the most interesting new products from the manufacturer.
Derby Blu super stainless are razor blades (for safety razors and shavette razors) manufactured in Istanbul, Turkey.
Derby razor blades are soft, sharp, smooth, effective and durable.
Very good value for money.
Manufactured in:
Istanbul (Turkey)
Quantity of razor blades in each pack:
10 individually wrapped razor blades in waxed paper.
200 blades
20 Dispensers of 10 Blades each = 200 BLADES
---
We Also Recommend
---