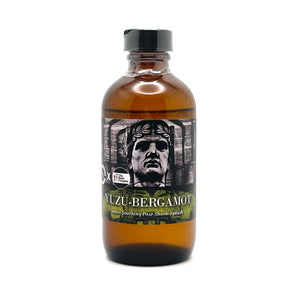 Shannon's Soaps - Yuzu & Bergamot - Aftershave Splash - 100ml
Exclusive to The Razor Company
Alcohol-Free
Emerge from your daily shaving ritual with the refreshing embrace of Shannon's Aftershave Splash, delicately fragranced with Bergamot & Yuzu. A harmonious blend that captures the essence of both the East and West, this aftershave is a testament to refined grooming traditions elevated by contemporary sophistication.
The opening note reveals the aromatic charm of bergamot, echoing the tranquility of Mediterranean orchards kissed by the sun. This serenity is soon met by the vibrant burst of Yuzu, a prized Japanese citrus. Its tangy, effervescent scent invigorates the senses, leaving you with an aura of crisp, energizing freshness.
Beyond its fragrant allure, Shannon's Aftershave Splash is imbued with carefully selected ingredients to nurture the skin post-shave. Its calming formula works to reduce any redness or irritation, replenishing the skin's moisture and leaving it supple and refreshed. The soothing touch ensures your face feels as good as it smells, ready to face the day or night ahead.
Step into a world where classic grooming marries exotic aromatics. Shannon's Aftershave Splash — a finishing touch of elegance for the discerning individual.
Note: For best results, pat gently onto the skin after shaving, allowing the product to be fully absorbed.
Ingredients: Witch Hazel, Water, Fragrance, Glycerin
---
We Also Recommend
---