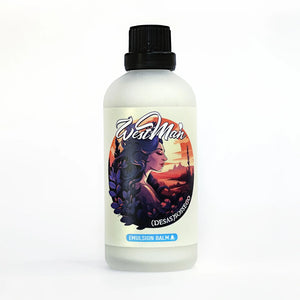 WestMan Shaving - (Desas) Sossego - Aftershave Emulsion Balm - Made in Portugal
Yuzu, Neroli, Lavender, Vanilla, Ylang-Ylang, Sandalwood, Patchouli
(Desas)sossego is a Lavender-foward fragrance with the soothing embrace of nature and a an edgy twist. It offers a moment of relaxation from everyday life.
The subtle top notes of zesty Yuzu and sweet Neroli are reminiscent of a gentle breeze on a field of purple blooms. At the heart there is a strong note of Lavender, which makes up about 40% of the entire fragrance, is obtained primarily from natural essential oils with a sliver of synthetic materials to enhance its fragrant properties.
Lavender's timeless appeal is enhanced by a soft and creamy note of Vanilla that enhances the feeling of comfort. Just a dab of Ylang-Ylang acts as an exotic layer of an acute and unfamiliar aroma. Notes of Sandalwood and Patchouli provide a warm and grounding base.
The inspiration for the theme of this collection is the book "O Livro do Desassossego" by Fernando Pessoa. We are certainly proud of his legacy and this is perhaps his most important and profound work. A collection of experiences and reflections recorded in loose texts in no particular order. Similar to a diary with confessions that oscillate between restlessness (Desassossego), boredom, anguish and such great lucidity and analytical capacity.
The Emulsion Balm
The Emulsion Balm is our recommendation for a gentler and alcohol-free aftershave routine. It is designed for gentlemen who prefer a balm over a splash, or for those who have really dry and sensitive skin.
This product can effectively do the job on its own or help boost other aftershave products. The formula promotes deep skin nutrition and recovery of the skin without compromising astringent properties. Witch hazel is the base ingredient of this formula, an important component for soothing skin and reducing redness and pain. It is blended with effective moisturisers and antioxidants in an emulsification process. The essence of skin-friendly post-shave luxury.
Composition
INGREDIENTS: Hamamelis Virginiana (Witch Hazel) Water, Aqua, Parfum (Fragrance), PEG-75 Lanolin, Glycerin, Cetearyl Olivate & Sorbitan Olivate, Hydrolized Silk, Simmondsia Chinensis (Jojoba) Seed Oil, Lavandula Angustifolia Oil, Caprylic/Capric Triglyceride, Tocopherol (Vitamin E), Phenoxyethanol & Benzyl Alcohol & Ethylhexylglycerin, Xanthan Gum, Styrax Benzoin Gum, Cananga Odorata Flower Oil, Benzyl Salicylate, Limonene, Coumarin, Linalool, Benzyl Alcohol, Hydroxycitronellal, Alpha-Isomethyl Ionone.
Recommended Use
When you are finished shaving, wash your face thoroughly with cold water to ensure loose hairs and excess lather are removed.
Shake the bottle well and open it. Pour half a teaspoon amount of aftershave into one palm and pat it over to the other. Gently apply the aftershave to recently shaved areas of the face, neck or body. Avoid contact with eyes and other mucous membranes.
Massage the product in a downward motion, making sure you get an even coverage. Do not rinse with water, your skin will soon absorb the product and do its work.
---
We Also Recommend
---