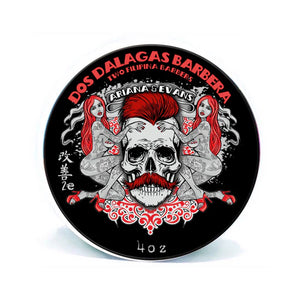 Ariana & Evans - Dos Dalagas Barbera - K2E Base Shaving Soap
Description From A&E:
This all new barbershop scent was dreamed up in the Philippines and created in the home office. Our u inquest barbershop brings some of the Asian tropics to a somewhat traditional barbershop scent. Actually, nothing we do is so traditional 😝. The stars of this scent are coumarin, talcum & mango. This is simply wonderful.
Notes: Lavender, Talc, Mango, Geranium, Blood Orange, Coumarin, Tobacco, Vetiver, Cedar wood, Hay, Cardamon, Sandalwood, Vanilla, Musk.
Kaizen 2e Ingredients: Stearic Acid, Beef Tallow, Aqua, Goats Milk, Potassium Hydroxide, Kokum Butter, Shea Butter, Beer, Castor Oil, Sodium Hydroxide, Glycerin, Manteca, Aloe Juice, Avocado Oil, Apricot Kernal Seed Oil, Lanolin, Agave, Sorbitol, Slippery Elm, Sodium Lactate, Xanthan Gum, Emu Oil, Hyaluronic Acid, Silk Amino Acid, Colloidal Oatmeal, Yogurt, Tussah Silk, Marshmallow Root, Fragrance
---
We Also Recommend
---