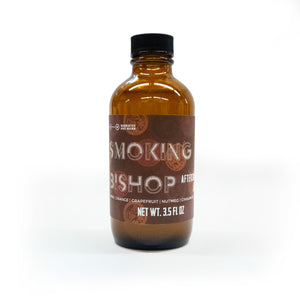 Barrister And Mann - Smoking Bishop - Aftershave Splash - 3.5oz
Description
Smoking Bishop
 
A Christmas Carol creates a particular image: cobbled London streets, swollen with carts and men in top hats and street urchins, all milling and shouting and running in the cold December air. You can practically feel the chill, see the clouds of steam as the crowds breathe, and hear the din of a thousand lives all playing out in the same space. It's a vivid, intensely nostalgic picture, one almost irrevocably associated with its author.
The story makes particular reference to a Victorian mulled wine known as "Smoking Bishop," so named because it's served heated to steaming, but not boiling, and drunk from warmed bowls or glasses (before you ask, we have no idea where the bishop part comes in). It's one of our favorite holiday punches here at Barrister and Mann, and we thought it was high time that it got the full shaving soap treatment!
The soap version is a smooth, warm blend of wine, orange, grapefruit, vanilla, cinnamon, nutmeg, and pipe tobacco that conjures images of sipping a stiff drink near a roaring hearth, the air redolent with the scents and sounds of food and drink and good company. Effortlessly charming and good-natured, Smoking Bishop is one of our best "feel-good" scents ever, and we can't wait for you to give it a try!
Net Wt. 3.5 fl oz
Directions for Use
Shake aftershave into your palms (we recommend an amount about the side of a quarter) and rub them together for 3 seconds. Rub your palms over your freshly shaven skin. There may be a mild sting upon initial application, but your face is about to look, feel, and smell awesome. We know you can handle it.
Ingredients
SD Alcohol 40-B (Alcohol Denatured), Witch Hazel Water (Hamamelis Virginiana), Water (Aqua), Glycerin, Fragrance, Taurine, Chlorella Vulgaris/Lupinus Albus Protein Ferment, Eleuthero Root Extract (Eleutherococcus Senticosus), Allantoin, Aloe Leaf Extract (Aloe Barbadensis), German Chamomile Flower Extract (Matricaria Recutita), Organic Licorice Root Extract (Glycyrrhiza Glabra), Acetylsalicylic Acid, Sodium Lactate, Provitamin B5 (DL-Panthenol), Citric Acid, Benzoic Acid
---
We Also Recommend
---