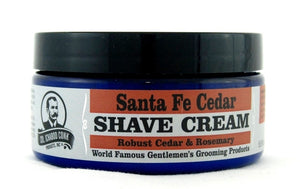 Col. Conk - Santa Fe Cedar - Shave Cream
Rich, silky and luxurious, Colonel Conk's Natural Shave Cream is a premium alternative to our natural shave soap. An experience to be enjoyed and savored!
Creates the perfect buffer between your skin and the blade with a thick creamy lather with great hang time. Nutrient rich, long lasting shave cream with beard softening formula for a clean, close shave.
The Santa Fe Cedar scent is created by an exclusive blend of essential oils.
This is a robust cedar and rosemary scent with a true "woodsy" masculine feel to it.
The Colonel Conk Natural Product line is more than 99% natural, with only a minimal amount of preservatives to keep the product fresh on your shelf.
Made in the USA
---
We Also Recommend
---