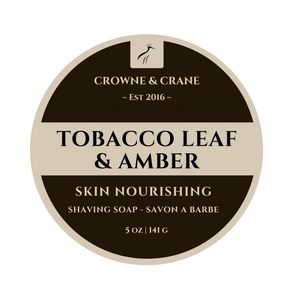 Crowne and Crane - Tobacco Leaf and Amber - Artisan Shaving Soap
TOBACCO LEAF & AMBER
In our Tobacco Leaf & Amber shave soap, you will quickly notice the aroma of freshly-cured tobacco leaves mingled with just the right undertones of amber and vanilla making this shaving soap a favorite of many.  Upon request, Tobacco Leaf & Amber is now available in our tallow formula.

Note: Because this fragrance contains vanilla, this soap may darken anywhere from tan to brown. This is due to oxidation of the vanilla from air and water.  The discoloration will have no effect on the scent or performance. 
(This is a tallow-based shaving soap using only premium quality ingredients. Some of our ingredient superstars include shea butter, kokum butter, glycerin, and lanolin. The tallow we use is of unsurpassed quality using only the kidney fat, and we are committed to only using 100% organic raised and certified organic grass-fed beef, free from antibiotics, synthetic hormones, GMO feed, or pesticide exposure.)   

5 oz Jar
Ingredients: Potassium Tallowate, Sodium Tallowate, Potassium Stearate, Sodium Stearate, Aloe Vera Juice, Potassium Cocoate, Sodium Cocoate, Phthalate-Free Fragrance, Potassium Shea Butterate, Sodium Shea Butterate, kokum butter, Sodium Lactate, Glycerin, lanolin, Tussah Silk
Discontinue use if irritation occurs.
Made in the USA
---
We Also Recommend
---