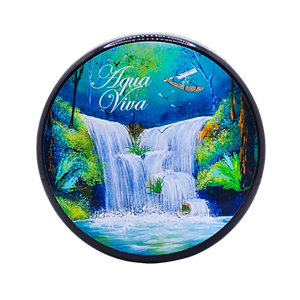 E&S Rasage Traditional - Aqua Viva - Shaving Soap
Hand Made In France
CITRUS FRESH Tallow Shaving Soap, 145g.
A natural goat milk shaving soap composed of tallow, shea butter, cocoa butter and lanolin rich in moisturizing active ingredients that promote skin elasticity, combined with Vitamin E and avocado oil with nutritional properties.
Goat's milk helps skin fight the effects of aging.
The shaving foam, rich, creamy and lingering, obtained with this shaving soap will provide you with exceptional gliding, protection and softness, in order to prevent razor burns.
The strong point of this tallow shaving soap is its hydration and post shave effect, perfect for normal and dry skin. It is a very nourishing soap for the skin.
The quality of the composition of our traditional shaving soap will leave the skin of your face refreshed and supple. Pair it with our CITRUS FRESH aftershave for an exceptional shaveexperience from start to finish !
For best results we recommend two application methods :
1 - In a shaving bowl : Take an almond-sized amount of shaving soap with your finger and press it into the bottom of a shaving bowl. Soak your shaving brush in warm water, drain it slightly and work it into the shaving bowl in circles until you have a thick shaving foam. Add a few drops of water if necessary.
2 - In the jar : Soak your shaving brush with hot water, load it of shave soap for 30 seconds making circles in the pot then lather on your face until you get a thick foam. Add a few drops of water if necessary.
The scent :
Summer fragrance built around an accord of airy citrus notes (predominance of lemon). Its heart, meanwhile, brings together several flowers such as Iris and Jasmine. A touch of fresh spices sweeps the whole. Finally, it ends with a woody and sunny vanilla duo.
Top Notes : Citrus, Airy, Orange tree
Heart Notes : Iris, Floral, Jasmine, Spices, Heliotrope
Base Notes : Woody, Musk, Sandalwood, Amber, Leather, Solar, Vanilla, Hay
Net weight : 145g
Ingredients : Potassium Stearate, Caprae Lac, Glycerin, Sodium Stearate, Potassium Shea Butterate, Potassium Tallowate, Sodium Safflowerate, Potassium Castorate, Parfum, Persea Gratissima Oil, Sodium Tallowate, Cocos Nucifera Fruit Extract, Sodium Shea Butterate, Sodium Cocoa Butterate, Sodium Castorate, Potassium Cocoate, Silk Powder, Stearic Acid, Potassium Lanolate, Sodium Cocoate, Allantoin, Sodium Lanolate, Tocopherol, Adeps Bovis, Butyrospermum Parkii Butter, Ricinus Communis Seed Oil, Theobroma Cacao Seed Butter, Carthamus Tinctorius Seed Oil, Helianthus Annuus Seed Oil, Cocos Nucifera Oil, Lanolin, Benzyl Benzoate, Benzyl Salicylate, Citral, Citronellol, Coumarin, Eugenol, Farnesol, Geraniol, Hydroxycitronellal, Isoeugenol, Jasmonal h, Limonene, Linalool, Methyl Ionone.
---
We Also Recommend
---