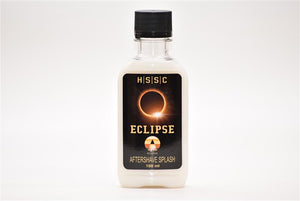 Highland Springs Soap Company - Eclipse - Aftershave Splash
Aftershave Splash- Eclipse
For those who do not like the "sting" that comes with an alcohol based splash. Witch Hazel is the main ingredient in these splashes. Known for its anti-inflammatory and its ability to reduce skin irritation, its perfect as an aftershave splash. Combined with a healthy dose of Aloe Vera this splash provides antioxidant and healing properties to leave your skin soft, supple and smooth.
Eclipse
Eclipse was born from a desire to create a dark musky fragrance, although at the time, we had no idea it would bear that moniker. We have collaborated with Australian private reserve as they are well-known in creating complex scents; a perfect fit.
The long list of notes come together beautifully to create a truly one of a kind experience. Russian leather and dark musk are predominant initially, followed by blond tobacco dried fig and bourbon then rounding out with floral notes of Carnation, Geranium and Lavender.
The dry down on this scent emphasizes it's complexity, like the moon slowly passing in front of the sun, it darkens over time, leaving you in the shadows of Eclipse.
This is a one-time scent release that won't be returning.
Ingredients:
Hamamelis Virginiana (Witch Hazel) Extract, Aqua (Water), Aloe Barbadensis (Aloe Vera) leaf juice, Polysorbate 20, Parfum, Glycerin, Panthenol (Vitamin B5), Hydrolized Silk Peptide (Silk Peptide), Hydroplized Rice Protein (Rice Protein), Tocopherol (Vitamin E), Liquid Germall Plus (Preservative).
100 ml
---
We Also Recommend
---