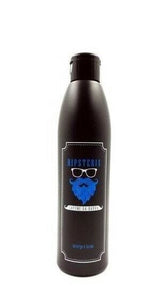 Hipsteria Beard Shampoo - 250ml
Hipsteria Beard Shampoo (Sapone da Barba)
Hipsteria Beard Shampoo(Soap) is a light soap formulation, which cleans and enhances the shine of the beard,  It also refreshes and softens the beard and is great in conjunction with the Beard Conditioner.

How to use: Apply on damp or dry beard and gently massage and rinse thoroughly.
Hipsteria is an innovative and distinctive Italian brand created by Marco Balocchi, a well-known entrepreneur and part of the driving force behind Balocchi CAP Perfumeries of Pesaro. They have been a leader in Perfumery market since 1978. The name of the brand contains the word "Hip" because it was meant to be a modern and updated take on the men's grooming industry and it offers high quality products for the modern man. Hipsteria created fashionable products for the fashionable man, all the while paying close attention to practicality and quality.
Size: 250ml
Made in Italy
---
We Also Recommend
---