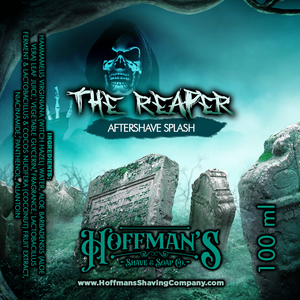 Hoffman's - Reaper - Aftershave Splash 100ml
The Grim Reaper has been around for centuries and has been a figure that represents death….For us, The Reaper is something you can't avoid…you can't out run it and you can't hide either. The Reaper is your destiny. The Reaper will always be with you and always be coming for you. When the reaper is calling and smiles at you, it's your choice on weather to crumble or you just smile back!!
Welcome to THE REAPER!!!
SCENT NOTES:
Warm Amber, Grassy Vetiver, White Musk, Jasmine, Desert Sandalwood, Black Currant, Bergamot, Tart Mandarin Orange, Amalfi Lemon. Gardenia, Fruity Notes
Ingredients:  Hammamelis Virginiana (Witch Hazel) Water, Aloe Barbadensis (Aloe Vera) Leaf Juice, Vegetable Glycerin, Fragrance, Lactobacillus Ferment & Lactobacillus & Cocos Nucifera (Coconut) Fruit Extract, Niacinamide, Panthenol, Allantoin
Ingredients Alcohol Version: SDA 40B 100 Proof Alcohol, Fragrance, Polysorbate 80
Size: 100ml
Small Batch:  Made in America
---
We Also Recommend
---