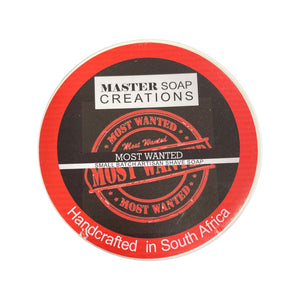 Master Soap Creations - Most Wanted - Shaving Soap
From MSC:
Traditional, lathering shaving soap
Tallow-based
An homage to Azzaro Wanted
Scented with a bold aroma of lemon, ginger, mint, juniper, cardamom, tonka bean, amber, vetiver, and more
These soap recipes are a tallow dream. It whips up thick, rich, and dense so it stays on the face and lasts. The protection from the blade, slickness, and glide all combine for a noteworthy shave. And the post-shave face feel is excellent as well.
Bold adventure. Rule re-writer. Trailblazer. If you like to make your own way, this is the scent to take with you. An homage to Azzaro Wanted, this is a bold, fresh aroma. Notes of energetic lemon, ginger, lavender, and mint meld into spicy juniper, apple, Guatemalan cardamom, and geranium. All on a base of tonka bean, amberwood, and Haitian Vetiver. Most wanted, indeed. 
Size: 170g/6oz approx.
Ingredients: stearic acid, shea butter, potassium hydroxide, purified aqua, vegetable glycerine, avocado oil, bentonite clay, sodium hydroxide, pure essential oils, fragrance oils, tallow.
---
We Also Recommend
---