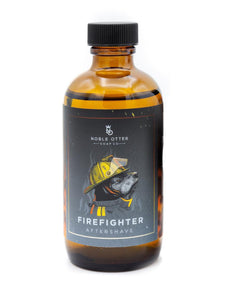 Noble Otter - Firefighter - Limited Edition Aftershave Splash
From Noble Otter:
Firefighter is an aquatic fragrance with light woodsy elements. Notes of Grapefruit, Lavender, Red Cedarwood, Water, Sandalwood, Ambergris. We hope that you guys enjoy Firefighter. Thank you for helping us support those who look out for us.
(There are no fire/smoke elements in Firefighter)
NOTES : 
GRAPEFRUIT, LAVENDER, RED CEDARWOOD, WATER, SANDALWOOD, AMBERGRIS
 Ingredients:
Denatured Alcohol, Aloe Leaf Juice, Glycerin, Witch Hazel, Water, White Willow Bark Extract, Chamomile Extract, Carrot Extract, Seaweed Extract, Menthol, Phenoxyethanol, Allantoin, Tetrasodium Glutamate Diacetate 
*This product contains Alcohol and can not be shipped internationally.
---
We Also Recommend
---