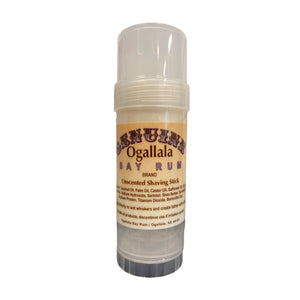 Ogallala - Unscented - Shaving Soap Stick
From the vendor:
This is a version of our popular Genuine Ogallala Shaving Soap in Shaving Stick form. With a shaving stick you rub it directly on your wet whiskers and whip up a lather right on your face with a shaving brush. This is great for traveling, or shaving in the shower....or for everyday use!

Ogallala shaving soaps do not contain artificial coloring.

Travel-friendly 
Enriched with shea butter
Suitable for acne prone and problem skin types 
Includes bentonite clay to absorb impurities 
Apply directly to skin to create a rich lather 
Coconut Oil, Palm Oil, Castor Oil, Safflower Oil, Glycerin, Purified Water, Sodium Hydroxide, Sorbitol, Shea Butter, Sorbitan Oleate, Soybean Protein, Titanium Dioxide.
Weight: 2.5 oz (71g)  
---
We Also Recommend
---