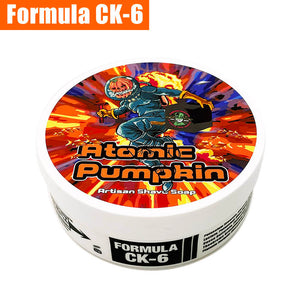 Phoenix Artisan Accoutrements - Atomic Pumpkin - Formula CK-6 Shaving Soap
Description from PAA:
This isn't your basic seasonal Pumpkin Pie offering my friends but something far more sophisticated and alluring, West Indian Bay, Moro Blood Orange, Allspice, Lite Cinnamon, Ginger, Nutmeg, and Elemi Resin. Trust me when I say this really is some festive, masculine magic done right. 
If you are already a fan of our many Bay Rum creations then you know to expect something smooth, refined, distinctive and just different. The goal was to stay within the Bay Rum tradition but add our own spin on things and a page to the history.
Atomic Pumpkin, though playful and fun, is no different in this approach. We take Bay Rum serious, but if we can't dance now and again, it's not our revolution...if you know what I mean? :)
Moro Blood Orange?
The 'Moro' is the most colorful of the blood oranges, with a deep red flesh and a rind with a bright red blush. Very distinct with almost berry type notes.
Organic Pumpkin seed oil (PSO) is rich in vitamin E, zinc, omega 3- and 6- fatty acids as well as antioxidants. It has tremendous benefits for the skin in terms of retaining moisture, this will be detected in a killer post shave feel!
Atomic Pumpkin has really become an Autumn Tradition in and around shave dens across the world, I suspect it has also become a huge hit with significant others too. Remember, this fall you don't need to smell like a candle store or a latte...you're welcome.
5 Oz Tub
Soap Ingredients: Potassium Stearate, Glycerin, Potassium Cocoate, Aqua, Potassium Kokumate, Sodium Lactate, Potassium Shea Butterate, Potassium Castorate, Sodium Stearate, Potassium Cocoa Butterate, Potassium Avocadoate, Simmondsia Chinensis (Jojoba) Seed Oil, Theobroma Grandiflorum (Capuacu) Butter, Astrocaryum (Murumuru) Seed Butter, Platonia Insignis (Bacuri) Seed Butter, Parfum [Fragrance]
External Use Only, Discontinue Use if Irritation Occurs
Handmade In Arizona, USA
External Use Only, Discontinue Use if Irritation Occurs
Handmade In Arizona, USA
---
We Also Recommend
---