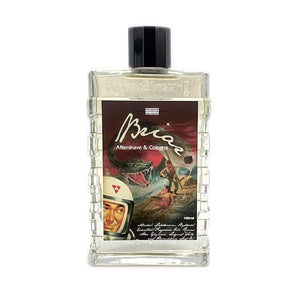 Phoenix Artisan Accoutrements - Briar - Aftershave Cologne - 100ml
Description from PAA:
Scent Profile: Tobacco, Oakwood, Vanilla, Animalic Musk, Labdanum, Rose and crisp dried leaves. That place you return to every time you close those heavy eyes.
Tapping out his pipe he leans back and sprawls out on the tiny, ancient couch that though small, still takes up half the space in the cabin. The aromatics linger and mingle in the air as a rustling chase of dried maple leaves whirl around outside lulling him off to slumber.
Soon he is back to the comfortable abstracts of the dream, his only real home.
Ahh Briar, this one really takes me back to 2012, when it all began back in New England. Briar was truly one of the earliest Fall Scents on the artisan market and man did people freak for it! I think it really caught a moment in time and resonated with folks. People were excited about this return to traditional shaving and many were then realizing there was more beyond dad's Barbershop Scents, Old Spice and Fougères! Nothing wrong with those classics but we wanted to try something different...and we still do!
Fast Forward to NOW!
Fran, as the creator, considers Briar a crisp, fall day, pipe puffing in the cabin type scent and I definitely agree. In fact, those are the same exact words she used on me when I asked what she would like to see on the label...evidently her idea of a rustic cabin and mine is VERYdifferent. 
For me, time at a cabin in Autumn is not only about the obvious outdoor/indoor fun and fragrances that come with it but also the other feelings and sensations too. Like a good spook or an afternoon nap...or both!
Ever really psyche yourself out at night in a dark cabin or tent? Or get the feeling you're being watched or maybe you were followed on the trail? All this may lead, and often does, to very turbulent and sometimes lucid dreams...the BEST kind!
Some of my most memorable scifi/paranormal dreams were born out of weekends such as these...Sooooooo, I hope in some way, you allow your mind to go there too with a willing suspension of disbelief.
Sure it's a cabin but it's located on the site of something mysterious where the veil is thin, and the sun and moon battle for supremacy, somewhere just in the distance and to see it you have to squint, somewhere in the outer limits of our PAA Universe! Enjoy Briar!
Our Aftershave/Cologne is just so darn nourishing...here's why. 
Rose Water: Has been used as a beauty product for thousands of years, so it's no surprise that it can improve your complexion. The soothing properties may even help reduce skin redness and puffiness.
Aloe Vera: Can help reduce the appearance of redness, blemishes, and dry skin and provides a cooling effect. 
Liquid Silk: Known to form a natural layer over the skin, keeping moisture locked in and harsh conditions out, leaving skin protected and well-nourished. LiquidSilk contains silk amino acids which give the skin a very soft and velvety feel when used, it also has excellent water-binding properties. This product is from a non-animal source
Pumpkin Seed Oil: Can helps to firm the skin while also keeping it moisturized.
Vegetable Glycerin

 

regulates oil production, soothes itching and dryness, eliminates congestion in the pores, brightens dull

 

skin

 and

 helps lock in moisture!  BAM!
Glass Flask - 100 Ml
Ingredients: Denatured Alcohol, Labdanum Hydrosol, Rose Water, Essential/Fragrance Oils, Aloe Vera, Glycerin, Liquid Silk and Pumpkin Seed Oil
---
We Also Recommend
---