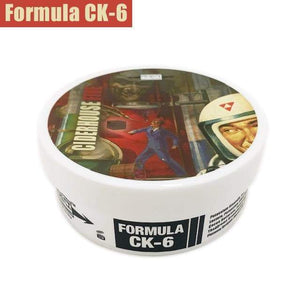 Phoenix Artisan Accoutrements - Ciderhouse 5 - Formula CK-6 Shaving Soap
Description from PAA:
That Mysterious & Spooky Festive Fall Classic is Back, Ciderhouse 5 & in Formula CK-6! (rejoice)
...and would you believe this is our 10th year doing it? It's amazing how time flies when you're...um, running a haunted amusement park...um, I mean, small artisan soap company! 
Scent Profile: Pipe Smoke, Mulled Cider, Oakwood, Dried Leaves, Linseed...seems innocent enough, right?
For those who don't recall, Ciderhouse 5 was our take on a traditional, New England Cider Mill...that had some interdimensional um, complications. A real crowd pleaser and customer favorite for sure....and general ominous stuff.
5 essential notes make up this blend of our classic Autumn shave soap. 5 notes, like 5 colors on a painters palette, mingling in a mid-afternoon, mid-autumn day on a canvas in an apple orchard. A few feet away is the cider house come to life in a bustle of festive activity and mirth.
Someone is smoking a pipe, mulled seasonings catch flight on the warm autumn wind, *oak barrels rock in the rhythmic ripples of the cider press, leaves crackle beneath the artist's feet....linseed oil lingers, and an apple possibly plucked by Eve herself is offered to bite. The artist drinks it all in...So it grows.
The winds begin to pick up in all directions, leaves whirling & spiraling up the invisible columns of a banshees temple, clouds roll in...but those are not clouds?
People run out from the orchard and the neighboring pumpkin patch, screams of children escape from the corn maze across the street.

Then a flash of white light crosses the sky, life in wholesome Technicolor resumes and the memory of what just was...is wiped. The artist finds himself under the overhang of the cider mill, tubes of paints capped and uncapped spilling from his pockets, easel under arm, nonplussed  and damp.
So it grows...
You have just witnessed what has become a regular irregular event in these parts, dare I say Paranormal? You have just witnessed Ciderhouse 5.
5 Oz Tub
Soap Ingredients: Potassium Stearate, Glycerin, Potassium Cocoate, Aqua, Potassium Kokumate, Sodium Lactate, Potassium Shea Butterate, Potassium Castorate, Sodium Stearate, Potassium Cocoa Butterate, Potassium Avocadoate, Simmondsia Chinensis (Jojoba) Seed Oil, Theobroma Grandiflorum (Capuacu) Butter, Astrocaryum (Murumuru) Seed Butter, Platonia Insignis (Bacuri) Seed Butter, Parfum [Fragrance]
External Use Only, Discontinue Use if Irritation Occurs
Handmade In Arizona, USA
---
We Also Recommend
---