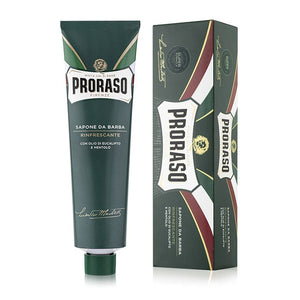 Proraso - Green - Shave Cream in Tube - Menthol And Eucalyptus Cooling And Refreshing
Shaving Soap in Tube Green 150ml – Proraso
The great shaving classic. It is still produced using the rigorous production process of "hot saponification", which transforms ingredients of natural origin into extremely fine soap. The traditional formula based on vegetable stearin has been enriched with raw materials of natural origin that make it particularly rich and concentrated.
EUCALYPTUS OIL: Has an invigorating and purifying effect.
MENTHOL: With refreshing and revitalising properties. The daily ritual becomes a moment to take care of oneself.
GLYCERINE: Improves razor glide, reducing irritation and redness. The daily ritual that becomes a moment to take care of yourself.
NO PARABENS – NO SILICONES – NO MINERAL OILS
How to use it: Proraso cream softens the beard, tones and protects the skin, preparing it for a better shave. Moisten your face and massage with Proraso Cream, then lather up normally with soap or shaving foam.
PRORASO GREEN LINE
The classic line, the one Proraso was born with. It is suitable for all types of beards and for skin that seeks freshness and tone.
A classic fragrance with notes of menthol and eucalyptus.
Proraso green line products are distinguished by the use of:
– Ingredients of Natural origin
– Menthol
– Eucalyptus oil
– NO use of ingredients of animal origin
DERMATOLOGICALLY TESTED
---
We Also Recommend
---