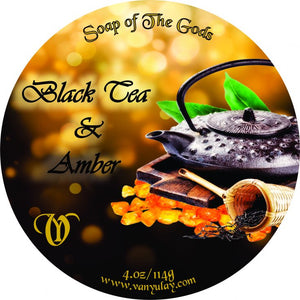 Van Yulay - Black Tea & Amber - Artisan Shaving Soap - 4oz
From Van Yulay:
A Shaving Soap Experience
Shaving Soap Of the Gods
"Black Tea and Amber"
Description of Shaving Soap Scent:
Wow this is killer scent with fabulous notes of smoky tea rounded roasted tea leaves and top notes of citrus. It is a  scent that can not be defined. Effused with Jasmine, White Cedar wood, Amber and a rich musk blended with a hint of ginger and light floras. This is a bold and unusual scent sure to intrigue, this should be in every den.
Description of Shaving Soap:
Van Yulay makes a croap shaving soap, that is neither a cream or a hard puck, but in between.
Van Yulay shave soap whips up into a yogurt like, creamy lather in just a few minutes.  Formulated with a superior, protective cushion, we make each soap with your skin mind.  With that said, we incorporate quality, vitamin enriched, oils and butters, chosen specifically to hydrate your skin.
"Leaving your skin better than when we first met."
Notice: These shave soaps are soft and heat-sensitive. Please keep this in mind, should you live in an extremely hot climate, with regards to product shipment.
How to use:
Soak your shave brush in a bowl or cup filled with hot water for a few minutes before your shave. Apply a warm, damp towel to your face (or splash face with warm water) to prep your face for shaving. Apply another hot towel to your face for a few seconds. After the brush has soaked, gently squeeze out excess water, still leaving the brush mostly wet. Apply the brush to the soap in fast, repeated circular motions to coat the brush bristles well.   Shave and rinse face thoroughly with cool water. For an optimal experience, finish with Van Yulay After Shave Splash then followed with your After Shave Balm by Van Yulay.

Shaving Soap Contents:
· Jojoba – Jojoba Oil used in shave soap is the best salvation for people who have sensitive skin. Cocoa butter moisturizers are good at protecting skin from heat, healing such diseases as eczema and other problems. A Jojoba Oil will definitely help you keep your skin soft and supple.
· Calendula – is used to disinfect minor wounds and to treat infections of the skin. The antibacterial and immunostimulant properties of the plant make it extremely useful in treating slow-healing cuts and cuts in people who have compromised immune systems. The herb stimulates the production of collagen at wound sites and minimizes scarring. Natural moisturizer that has powerful emollients and protective properties which makes a wonderful addition to our shave soap.
· Babassu Oil – is considered to be a superior emollient that is beneficial for either dry or oily complexions. In our shave soap it gently moisturizes the skin without leaving an oily sheen..
· Emu Oil – Emu Oil is a modern alternative method for helping relieve the discomfort of pain and inflammation caused by injured tissues. It also has oleic acid… a substance that has a local anti-inflammatory effect on dermal tissues. Using it in shave soap helps calm any irritation from shaving.
Shaving Soap Ingredients:
Made with Stearic Acid, Aloe Vera, Coconut Fatty Acid, Castor, Glycerin, Potassium Hydroxide, Coconut-Emu-Babassu-Olive-Argan-Jojoba-Oils, Calendula, Extracts, Poly Quats, Sodium Lactate, Allation, Silica, Liquid Silk, Bentonite Clay, Essential Oil, and EO's and Fragrance.
---
We Also Recommend
---