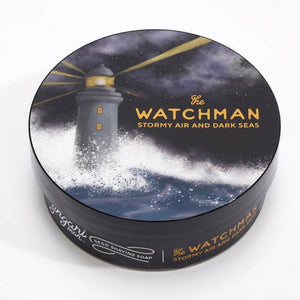 Zingari Man - The Watchman - Sego Shaving Soap - 5oz
Notes are Stormy air and dark seas. The scent was designed for me exclusively by Shawn Maher from Chatillon Lux and he nailed it.  This scent is not a light summer scent like Navigator its very much a dark aquatic that is perfect for late summer and fall even well into cooler weather.
DIRECTIONS: For the best wet-shave we recommend using during or after a hot shower. Wet your shaving brush and whisk it over the soap. Lather on your mug and shave with the grain. Re-lather and shave against the grain for a baby butt shave. Rinse with cold water.
Ingredients: Stearic acid, Vegetable Glycerin, Beef tallow, Shea butter, Potassium Hydroxide, Castor oil, Palm oil, Sodium Hydroxide, Fragrance, Jojoba oil, Oat bran oil, Shea butter (and) Glyceral Rosinate (and) Olive oil unsaponifiables, Coconut oil, Daikon Seed extract, Koolada 23, Goat milk, Coconut milk, Sodium lactate
Comes in a large frosted straight sided 5oz jar
---
We Also Recommend
---