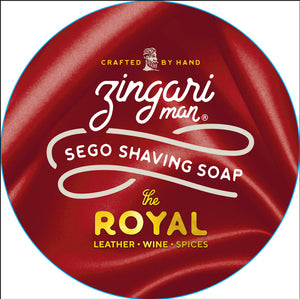 Zingari Man - The Royal - Shaving Soap - 5oz
From William The Conqueror, Henry The VIII, to Elizabeth I and Queen Victoria. Royalty, regality to nobility, shrouded in mystery, awe, and fear. As the ladies in waiting, gentlemen of the chamber and courtiers attended to the King and Queen's every wish. Head bowed, neck lowered, and eyes avoiding their gaze. The atmosphere is foreboding and tense but respectful and proud. The peasant's part the way as the muffled voices fall silent, not a sound bellowing from the great hall. As they walk toward their thrones, the air punctuated with divine aromas. Imagine a scent peppered leather permeating from their clothing. Laced with spices from food and resins from burning incense. With decadent wine notes lingering strong, the silks from the fabrics and tapestries engulf your senses. Introducing - The Royal, a fragrance of aristocracy.
This scent was created by perfumer Shawn Maher from Maher Olfactive.
Scent notes: Leather, incense, silk, oud, wine, spices, jasmine
The Zingari Man Sego tallow soap base is guaranteed to impress you with its elite level slickness, residual, cushion, glide, and an unsurpassed post shave feel. The post shave face feel is where it shines most. A luxurious post shave is important for your overall skin health and impacts the way your skin feels for the entire day.
DIRECTIONS: For the best wet-shave we recommend using during or after a hot shower. Wet your shaving brush and whisk it over the soap. Lather on your mug and shave with the grain. Re-lather and shave against the grain for a baby butt shave. Rinse with cold water.
Ingredients: Stearic acid, Vegetable Glycerin, Beef tallow, Shea butter, Potassium Hydroxide, Castor oil, Palm oil, Sodium Hydroxide, Fragrance, Bourbon, Jojoba oil, Oat bran oil, Shea butter (and) Glyceral Rosinate (and) Olive oil unsaponifiables, Coconut oil, Daikon Seed extract, Goat milk, Coconut milk, Sodium lactate, Limonene, Benzyl Benzoate, Eugenol, Hexyl Cinnamal
5oz frosted jar
---
We Also Recommend
---