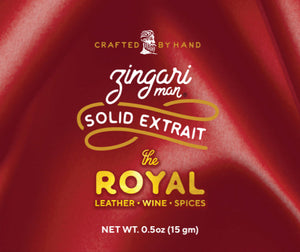 Zingari Man - The Royal - Solid Extrait - 0.5oz
From William The Conqueror, Henry The VIII, to Elizabeth I and Queen Victoria. Royalty, regality to nobility, shrouded in mystery, awe, and fear. As the ladies in waiting, gentlemen of the chamber and courtiers attended to the King and Queen's every wish. Head bowed, neck lowered, and eyes avoiding their gaze. The atmosphere is foreboding and tense but respectful and proud. The peasant's part the way as the muffled voices fall silent, not a sound bellowing from the great hall. As they walk toward their thrones, the air punctuated with divine aromas. Imagine a scent peppered leather permeating from their clothing. Laced with spices from food and resins from burning incense. With decadent wine notes lingering strong, the silks from the fabrics and tapestries engulf your senses. Introducing - The Royal, a fragrance of aristocracy.
This scent was created by perfumer Shawn Maher from Maher Olfactive.
Scent notes: Leather, incense, silk, oud, wine, spices, jasmine
Zingari Man Solid Extraits are extra long lasting with 30% fragrance strength. They are in a 0.5oz carry-on safe twist-up tube, making them easy for travel and on the go. The Solid Extraits' unique tube design keeps your fingertips fragrance free. 
Ingredients: Isopropyl Myristate, fragrance, Helianthus Annuss (Sunflower) seed was, Vitamin E Tocopherols, Limone, Benzyl Benzoate, Eugenol, Hexyl Cinnamal, Alpha Isomethyl Ionone, Coumarin
0.5 oz in a black twist up tube
---
We Also Recommend
---